Welcome to Chinese Acupuncture Clinic
Chinese Acupuncture Clinic provides services of Acupuncture and Chinese Herbal Medicine by Na Zhai, licensed Acupuncturist, Chinese Herbalist, A doctor of Acupuncture and Chinese Herbal Medicine from China with over 30 years clinical experience.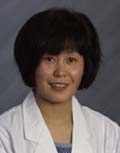 Na Zhai is a 1989 graduate of the Shan Dong University of traditional Chinese Medicine in China.While working as a physician for the next six years in the City General Hospital of Traditional Chinese Medicine in Jiao Zhou,she was invited by the Alternative Medicine Association of Austria to practice Acupuncture and Chinese Medicine and give seminars to medical professionals and the public at the Vienna Central Clinic in Austria.While in Vienna, she completed over three years of course work for advanced study in Western Medicine at Universitaet Wien (Vienna University).
In 2002, she came to the U.S.A. to join her husband and started providing Acupuncture and Chinese Herbal Medicine services to patients,using her integrated knowledge of both Eastern and Western Medicine.
Na Zhai is a licensed Acupuncturist (L.Ac) in the state of Colorado. She is national board certified by National Certification Commission for Acupuncture and Oriental Medicine (NCCAOM) and a member of the American Association of Acupuncture and Oriental Medicine (AAOM).
Na Zhai's clinic treats a wide range of conditions with emphasis on preventing disease, supporting well-being and promoting longevity. Welcome on boad of your healing journey. Here at Chinese Acupuncture Clinic, Dr.Na Zhai and her talented staff are dedicated to assist you. For more information, please call our office at 719-634-1669 to schedule an appointment .