Facial Rejuvenation Acupuncture
Help your natural beauty shine from inside out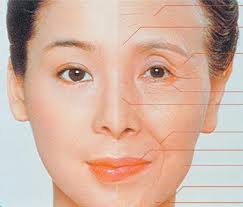 Facial Rejuvenation Acupuncture also called Acupuncture FaceLifting.It is a nonsurgical approach to healthy skin, wrinkle reduction, and facial resculpting. It is one of the hottest applications of acupuncture in China. This treatment lifts sagging facial muscles,eliminates double chins,reduces fine lines and wrinkles, and rejuvenates dull, lifeless, or aging skin.
It is effective, safe, and painless, and provides immediate and lasting results. It is all about balancing and activating the body's functional systems, re-educating, and toning underlying facial muscles, and improving skin tissue.
Give the best gift to yourself, love ones and friends. (Gift Certificate available)
The best gift for celebration of birthdays, anniversaries, engagements,valentine's and even as a thank you present.
Result:
After First visit: instant visible firming, younger looking with sensible soft, smothing skin, hold at least for 1-2 day. Recommended for same day interview, meeting, photographing ,dating ...
Holding result starts to show after 6 to 8 treatments, if done at least 2-3 treatments per week.
Staying result requires at least 10 to 12 treatments , if done at least 2-3 treatments per week. Thereafter, maintaining treatment frequency depend on age, sleep, diet, daily stress level, life style, excessive consumption of alcohol, cigarettes, caffeine and drugs...
Treatment includes:
1. Facial Acupressure on special acupuncture points of face, neck, shoulders,head and upper back.
2. Facial Acupuncture on special acupuncture points of face, neck ,head.
3. Ozone steam on the skin of face and neck
4. Chinese herbal essence in serum form massage into the skin of face and neck. The herbal serums are made of organic flowers and leaves only, no chemical, artificial or animal remedies added.
5. based on individual needs, Cupping, electrical stimulation and other supportive approaches can be added; Chinese herbs and nutritional supplements may be recommended. Recommendation for life style, diet and excise per request.
** We Use only single use, stainless steel, tiny hair thin needles that made special for facial rejuvenation.
Start today – move towards a healthier, more beautiful, energized, and younger looking you! For more information, please call our office at 719-634-1669 to schedule an appointment .